Right distribution - Network Marketing...
Network Marketing is a huge business sector

Network Marketing is simply a different method of distribution which has emerged as the most powerful way for companies to move their products and services to customers.
Network Marketing also represents true free enterprise, allowing people to build their own low start-up cost, home based business.
Network Marketing
A distributor buys a range of high quality products at wholesale direct from a manufacturer for personal use and to conversationally market to consumers at retail. This happily has little to do with sales skills and techniques, as the distributor is recommending products which they personally use and gain benefit from.
The manufacturer has no traditional distribution overhead costs, leaving it free to reward its distributors extremely well.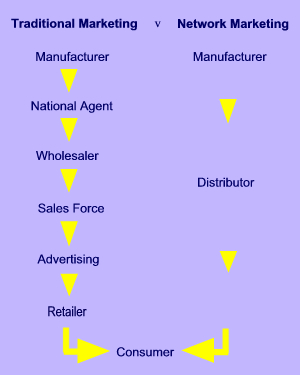 Traditional Business
In a traditional, but old-fashioned, distribution business the supply chain is from the Manufacturer to a National Agent, and on to a Wholesaler, then a Retailer and finally the Consumer.
Up to 50% of the final costs of goods are spent on paying advertising, salaries, commissions and benefits of the supply chain and the sales force who sell those products.

Now well-established, proven and with massive sales world-wide, Network Marketing should not be confused with illegal pyramid schemes, most of which are short-lived, involve large up-front joining costs, and where products or services are moved as 'pass the parcel' with price rises on each 'pass' and no real customers.