To find out more, without obligation, please fill in and submit our simple form.
Or, why not call on [07725 17 9000]
We will give you the facts and leave you to decide whether it's right for you. If we do become working partners, our promise to you is that we will not let you fail....
....and, who knows, like so many others you might even end up having the time of your life.
Forever is a proud member of the Direct Selling Association (DSA)
Forever, together with associates, began its success journey, by rapidly becoming the world's largest grower and producer of stabilised aloe vera and aloe vera based products – a distinction still held today.
Aloe Vera (or Barbadensis Miller) is a succulent plant concealing a pure inner gel that has been used for centuries to improve health and enhance beauty.
Avoiding the use of herbicides and pesticides, Forever's patented stabilisation process ensures aloe vera which is essentially identical to inner leaf gel, and because there is no dependency on any other supplier, the aloe quality is guaranteed.
Over the past 37 years, continuing to "stay ahead of the curve" by consistently developing new and often cutting edge products to add to their existing well established range... now used and endorsed by customers world-wide.
The versatility of this product means that aloe vera can be taken as a drink or applied to the skin. Starting with 100% inner gel, Forever add just enough other ingredients to produce a wide range of outstanding products, to include drinks, skincare, personal care and cosmetics, as well as supplements and weight management.
Not tested on animals, the product range is testimony to nature's capacity to help us look and feel our best.
Forever are so confident in their products, they offer a complete money-back guarantee.
Click on any of the products images below for more information
Pure and nutritionally rich products from the beehive
Look good – feel good with our range of daily care products
Drinks to promote an increased sense of well–being
Good health needs good nutrition – a range of supplements to reinforce a healthy, balanced diet
A unique and varied range of products to replenish sooth and moisturise
Weight management has never tasted so good
Forever Active Boost – a quick, refreshing way to give energy and alertness a boost – feel the difference from other energy drinks
ARGI+ for active lives...
Maintenance for those on the go...
Hand body and sun products of superior quality
Glow with our range of luxurious specialist skin care products

Products from the beehive...
Forever Living beehives are located in high dry deserts, where pesticides and other pollutants are practically non-existent.
Forever Living has the most comprehensive beehive product manufacturing facility, with state of the art patented processing equipment, which means that our products reach you in their purest form.
The benefits of Royal Jelly, Bee Propolis and Bee Pollen have been known for centuries.
Royal Jelly containing protein, mineral, vitamins and amino acids, to bring benefit to the skin, metabolism, energy and the effects of ageing, whilst Bee Propolis helps support the body's respiratory system and natural defences.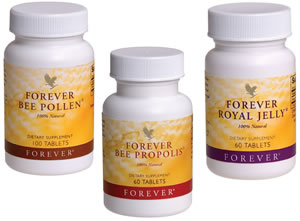 Bee Pollen, often called "Nature's Perfect Food", contains nutrients essential for good health, energy and stamina.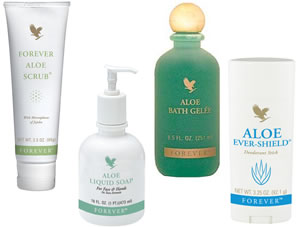 Aloe Liquid Soap is a luxurious but gentle and mild cleansing soap, kind to sensitive skin.
Aloe Bath Gelee is a luxurious all-over body, deep cleanser, combining Aloe Vera with soothing herbs to replenish dry skin.
Forever Aloe Scrub combines the moisturising power of 100% stabilised Aloe Vera with spheres of Jojoba, which work gently to exfoliate, without irritating or damaging the skin.
Forever Bright Toothgel pure, non-abrasive, fluoride free and contains aloe vera and bee propolis, all in a great minty taste.
Aloe Ever-Shield Stick Deodorant is free from harmful aluminium salts. This clean-scented glide-on deodorant stick will keep you fresh all day, whilst not staining your clothes. The healthy alternative.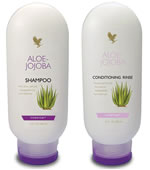 Aloe-Jojoba Shampoo, Aloe-Jojoba Conditioning Rinse and Aloe Styling Gel, are alcohol free mild products to help keep hair looking clean and styled.

Pure Aloe Vera Drinking Gel is a great daily source of additional nutrients and promotes an increased sense of energy and well-being.
Aloe Berry Nectar has all the benefits of Aloe Vera Drinking Gel, combined with delicious juices of cranberries and apple. Rich in Vitamins C and A, potassium and pectin.
In Bits'n Peaches, the addition of natural peach juice to the Aloe Vera Drinking Gel, makes this a refreshing and nutritious addition to the range of drinks.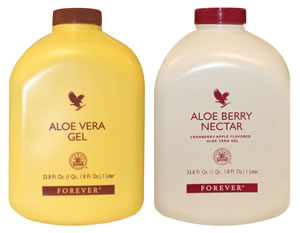 A complete range of top quality supplements to underpin a balanced and healthy lifestyle, both on the inside and out.
Arctic-Sea provides an Omega 3 rich proprietary blend of the finest quality fish and calamari oils, together with oleic acid from olive oil. Many diets may be deficient in Omega 3 fatty acids.
A-Beta-CarE is a powerful anti-oxidant nutrient formulation containing Vitamin A from Beta-Carotene, Selenium and Vitamin E.
Absorbent-C containing 100% of the UK RDA, is made from oranges and papayas and is bonded in an oat bran matrix for maximum absorption.
Gin-Chia combines two ancient herbs, Ginseng and Golden Chia, providing Vitamins C & A, thiamine, riboflavin, calcium, iron, sodium, and potassium for energy and stamina.
Forever Lycium Plus is a powerful anti-oxidant formulation which combines lycium fruit and liquorice extracts.
Forever B12 Plus uses time-release technology to ensure that there is a steady intake of B12, so necessary for a healthy metabolism.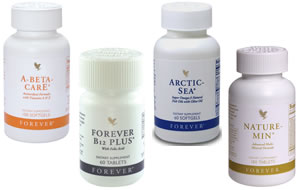 Nature-Min uses bio-available, chelated forms of minerals in a base of natural seabed deposits.
Fields of Greens contains wheat grass, alfalfa and barley, with cayenne pepper, to provide a convenient source of many of the nutritional elements found in green vegetables but which are so often missing in a modern diet.
Forever Garlic-Thyme combines two historically beneficial herbs in one great odourless formula.
Forever Ginkgo Plus Ginkgo Biloba Extract, Reishi Mushroom, Schisandra Berries and Cured Fo-Ti have been found to increase bloodflow to the brain.
Forever Kids Chewable Multivitamins are the fun and delicious secret to giving children the additional vitamins, minerals and phytonutrients, so often deficient in their everyday eating regimes.

Giving your skin a helping hand...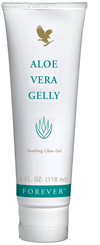 Aloe Vera Gelly is as pure and potent as if you had squeezed it straight from the leaf. Its soothing properties have been known for centuries. Always keep a tube handy in the kitchen, the bathroom and the car for all those cuts, bites, stings, bruises and burns that we all get from time to time.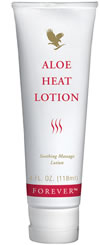 Aloe Heat Lotion combines stabilised Aloe Vera with warming and soothing herbal agents, great for warming muscles and joints before exercise, or simply as a relaxing massage lotion.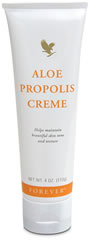 Aloe Propolis Creme is a rich, creamy blend of aloe vera, bee propolis, and chamomile, to soothe and moisturise irritated skin.

Forever Lite Shakes come in Chocolate and Vanilla flavours. Mix with milk or juice to help you lose or gain weight.
Fast Break Energy Bar. A meal replacement bar, loaded with vitamins and minerals but with less fat and fewer calories!
Aloe Blossom Herbal Tea is naturally low in calories and caffeine-free. Calming and refreshing at any time.
Forever Garclnia Plus is the perfect companion to any weight management programme. The active ingredients from the Garcinia Cambogia tree help control appetite by producing that full feeling.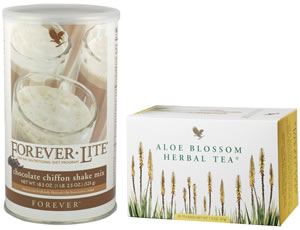 FAB – Forever Active Boost contains invigorating ingredients guarana and aloe vera, combined with ADX7 technology from a proprietary blend of adaptogenic herbs and nutrients.
FAB – energy on the go, wherever you go.

Forever ARGI+ is the product of choice for recreational endurance and sportsmen and women seeking more energy and endurance.
Contains the essential amino acid L-Arginine which works with protein to develop and maintain muscle mass.
Also contains Vitamins C, B6, B12 and K, together with Folic Acid and D-ribose to quickly regenerate energy and promote a feeling of well-being. Secondary plant compounds help maintain the body's natural defences.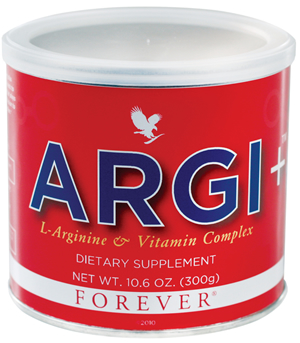 Forever Freedom is a unique formulation in an Aloe Vera drink containing Glucosamine Sulphate, Chondroitin Sulphate, MSM and Vitamin C, for fast, effective action to support mobility.
Aloe MSM Gel. Sulphur is the third most abundant substance in the body. In Aloe MSM Gel, an organic sulphur, found in almost all living organisms is combined with Aloe Vera. These 2 powerful ingredients are perfect for sportsmen and women, and all those wanting to soothe joints and muscles.
Forever Calcium is an ultra dense Calcium Citrate formula. It supplies your body with 100% of the daily recommended dietary intake of calcium, promoting good bone health.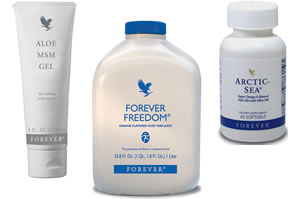 Arctic Sea provides an Omega 3 rich proprietary blend of the finest quality fish and calamari oils, together with oleic acid from olive oil. Many diets may be deficient in Omega 3 fatty acids.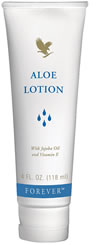 Aloe Vera Lotion is an all-purpose hand and body lotion to moisturise and protect the skin of the whole family. PH balanced, it is also an excellent after-sun moisturiser.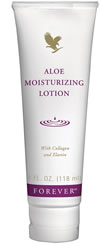 Aloe Moisturising Lotion contains 100% stabilised Aloe Vera with moisturising ingredients Allantoin, apricot kernel oil and jojoba oil. This lanolin-free, rich-textured moisturiser soothes dry, chapped or damaged skin. The penetrating power of Aloe Vera makes it an excellent cream for face, hands and body.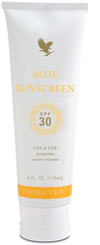 Aloe Sunscreen has an SPF of 30, blocks both UVA and UVB rays and is water resistant. This smooth lotion, made with Aloe Vera gel, combines pure ingredients to soothe, moisturise and protect against all the effects of sun and wind.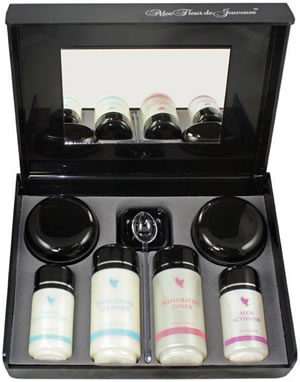 In Aloe Fleur de Jouvence, the full strength of the Aloe Vera plant, with its soothing and hydrating benefits, has been captured and blended with other unique natural ingredients to create the most effective, restorative beauty system available.
The Exfoliating Cleanser gently and naturally cleans your face leaving your skin soft and supple.
The alcohol-free Rehydrating Toner stimulates your skin, reduces pore size, and removes any residual oils for a smoother appearance.
The Firming Foundation Lotion under your make-up, moisturises, firms and re-texturises the skin, while it protects you against sun, wind and pollution.

Recovering Night Creme restores your skin while you sleep, when the ingredients help combat the appearance of fine lines and wrinkles.
Forever Alluring Eyes, developed using leading-edge technology, together with the best ingredients, provides optimum moisturisation, while minimising the appearance of wrinkles and dark circles under the eyes.
R3 Factor Skin Defence Creme retains moisture, restores elasticity and renews youthful appearance. R3 Factor combines stabilised Aloe Vera, anti-oxidants Vitamins A & E, and Alpha Hydroxy Acids to aid in the exfoliation of dry, dead skin cells, nourish new cells and reduce the appearance of fine lines and wrinkles.
Forever Alpha-E Factor is a light emollient fluid fortified with the finest skin nourishing ingredients, to soften and moisturise the skin while protecting it from harsh environmental factors.